HUMAN RIGHTS: THE THEME OF OUR TIMES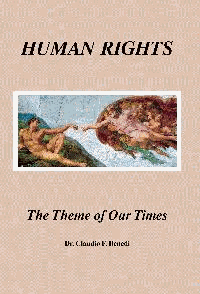 2ND EDITION

REVISED AND EXPANDED

Dr. Claudio F. Benedi

304 pages

Praise for Claudio F. Benedi and "

Human Rights: The Theme of Our Times"

"I would like to thank the respected human rights activist, Dr. Claudio Benedi, for his dedication and pioneering work in denouncing and documenting the Institutional Violation of Human rights." --Ronald Reagan.

"In a thoughtful and powerful fashion, Dr. Benedi has documented the systematic violation of human rights and has encouraged the international community to oppose these assaults of human freedom and dignity. We owe him a great debt."--George Bush

"Dr. Benedi… Thank you for Human Rights: The Theme of our Times. I appreciate your support for ensuring the protection of human rights...[These rights] are not something conditional, bounded by culture, but rather universal, granted by God." --Bill Clinton
---
This volume introduces the Benedi Doctrine, in which Claudio F. Benedi articulates the vision which has made him one of the world's most effective campaigners for the rights of the human being. The author affirms with Jefferson that human rights are the unique gift of God and thus beyond the jurisdiction of the state. He argues furthermore that there exist two dimensions to human rights violations: the institutional and the human. It is this analysis which gives the Benedi Doctrine its unique place in today's human rights discussion. Already an influential force in the policy debates at the United Nations, the Organization of American States (OAS) and the Inter-American Commission on Human Rights, the Benedi Doctrine is presented here for the edification of the layman and specialist alike. The volume also contains an analysis of the historical development of human rights, case studies of institutional human rights violations, and a compendium of the world's human rights documents.
Contents
• Preface
• Acknowledgments
• 1. Exploring the Benedi Doctrine: The Origin of Human Rights, Two Types of Human Rights Violations: Institutional and Human, The Human Person as a Category, Law and Human Rights

• 2. The Development of Modern Human Rights: Anglo-Saxon Contributions, U.S. and French Developments, The Spanish Human Rights Legacy, The Birth of International Law, A Crusade against Slavery, Toward Constitutional Government, International Protection for Human Rights, Sovereignty and Human Rights

• 3. Theocentrism versus Anthropocentrism: Judeo-Christian Origins, Anthropocentric Influences, Regressive Transculturation, Marxism and Human Rights

• 4. Human Rights in the Americas, The American Declaration, the Inter-American System and the OAS. The Inter-American Commission on Human Rights (IACHR), The IACHR and Communist Cuba, Institutional Human Rights Violations in Cuba, Basic Human Rights, The Right to Life, The Right to Equality under the Law, Freedom of Religion, Freedom of Thought and Expression, Freedom of Travel, The Right to Oven Property, The Right to Work, The Right to Petition, Freedom from Arbitrary Detention, The Right to Political Asylum, The Cuban Diaspora.

• 5. Human Rights in the Former Soviet Union: Institutional Violations in the Former Soviet Constitution, The Changing Situation, The Triumph of an Idea.

• 6. The UN High Commissioner for Human Rights: Challenges to the Commissioner's Effectiveness.
• Conclusion
The World's Human Rights Documents: A Compendium
• The Declaration of Independence
• The United States Constitution
• The American Declaration of the Rights and Duties of Man
• The Universal Declaration of Human Rights
• The European Convention on Human Rights
• The American Convention on Human Rights
• The Helsinki Accord
Bibliography
About the Author
Ordering Information: Order through any bookstore or on-line through
www.amazon.com
You can also special order by calling Paragon House at (612) 644-3087